Howdy, fellow Draconiacs!  RazorFox here.
So it looks like breakfast for Tshila and her cubs was not Arc's first attempt at trying to curry favor with the elusive Sandy Claws.  So if it's not her mom Elektra or Tshila, will the third time be the charm in finding the real Sandy Claws?  Stay tuned…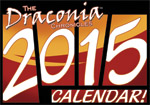 With 2014 drawing to a close, it means it's now time to order your copy of the 2015 Draconia Chronicles Calendar!  2015 marks the tenth anniversary of the series' launch as a webcomic way back on January 3, 2005, and so this year's calendar looks back at twelve of the biggest, baddest moments in the series' history, including a salute to the holiday specials!  You can order now through December 31st, and your order helps support the comic for the coming year.  Get yours now!
Stay tuned for the conclusion to this year's holiday special, coming real soon!  Take care, my fellow Draconiacs, and thanks for reading!
=RazorFox.