Howdy, fellow Draconiacs!  RazorFox here.
And thus, through the power of spam–and a little luck–it looks like Arc has won back her good standing with Tshila, her mother Elektra, and Sandy Claws herself.  Hope you all enjoyed this year's holiday special!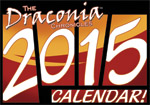 As of this page, I'm putting the comic on a brief pause while I finish up the 2015 Draconia Chronicles Calendar!  2015 marks the tenth anniversary of the series' launch as a webcomic way back on January 3, 2005, and so this year's calendar looks back at twelve of the biggest, baddest moments in the series' history, including a salute to the holiday specials!  You can order now through December 31st, and your order helps support the comic for the coming year.  Get yours now!
On behalf of myself and all of us here at Katbox, have yourself a merry Christmas, a happy holiday season, and a great new year!  Take care, my fellow Draconiacs, and thanks for reading!
=RazorFox.